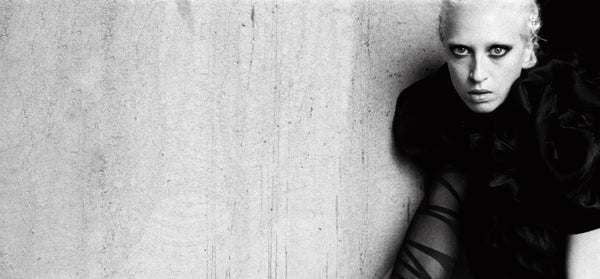 ESTHER PERBANDT X SVEN MARQUARDT
BERLIN BEAT / SUMMER 2021
The Berlin Beat is the heartbeat banging inside my chest since I took the first deep breath in early spring of 1975. Thrilling, powerful, free-minded, adventurous, extraordinary, dirty and new, it made me want even more. Being a big city brat myself, Berlin's subculture, music and club scene has always been an endless source of inspiration to me. Turn up the volume, close your eyes and feel the beat...
I was born in the spring of 1975 in Berlin, isolated by the Cold War and divided by the wall that shaped our lives in the city. Thanks to the great courage of my grandmother, who at the last moment fled to the other part of the city, I was born in West Berlin. She fled with her sewing machine hidden in the laundry basket and holding my little father's hand. West Berlin was the part of the city with the outsider status that creative people like David Bowie, Iggy Pop and Lou Reed felt affected and drawn to, adding to part of the city's rhythm, the Berlin Beat. This Berlin Beat has never left. Today, people from all over the world still feel sucked in by the powerful magnetism. Already on the day of their arrival, they lose themselves in the exciting depths of Berlin's nightlife and endless landscape of techno clubs. The day after, you can still feel the Berlin Beat from the massive sound waves of the gigantic bass boxes you danced in front of.
The BERLIN BEAT collection was created during the biggest and hardest Covid-19 lockdown in Berlin Germany. It is dedicated to the Berlin lifestyle and it's very special energy. The sense of freedom, the music scene and club culture. Everything that I was naturally and unconsciously inspired by since the start of my own brand. The moment when all of those things suddenly disappeared from our daily lives, I realized how big the impact had always been. It felt right to finally give something back to where I've always taken inspiration from. And so it felt more than natural to set the scene for this collection with a friend and creative colleague, the photographer Sven Marquardt, who has been part of the Berlin subculture for more than three decades. Born 1962 in East Berlin, Sven Marquardt was a defining part of the emerging Punk, New Wave and arts scene in the Prenzlauer Berg neighborhood from the mid 1980s. With the fall of the Berlin Wall, he halted his work as a photographer and immersed himself in the reunited city's rising night club scene. The subject-matter of 'Night' left a strong impression on Marquardt since the end of the 90s due to his work as a doorman at the Ostgut club.
"Sven and I were born in the same city but in different countries. Sven in former East-Berlin, me in former West-Berlin. We both have experienced how our country became one again from a different perspective, but with the same passion for the city's creativity exploding once both energies started to melt. However, it was only a few years ago that we met personally. Sven has a huge and long term fascination and relationship with fashion, which obviously made him catch one of the rare invites to my big 10th anniversary fashion show in the notorious Berlin theater "Volksbühne". We met here and there, he came regularly to my shows and I made sure not to miss one of his exhibitions. Eventually, he started to collect a few Esther Perbandt collection pieces. Sensitive and shy as both our creative souls work, it took time to find our own rhythm of regular contact and walks in the most beautiful cemetery in Berlin. There, I finally asked him for the first time to take pictures of my new collection, "Berlin Beat." I am a huge fan of Sven's work. It is strong, yet vulnerable and most important for me, it is timeless as are most of my pieces. He has a very good eye and a very aesthetic sense of fashion. He knows exactly what he wants. His strict use of analogue cameras and use of daylight is crucial for his photographs. Working with Sven requires a lot of trust on both sides. You don't know the outcome. You just have to trust that the result will be great. Not that I needed to tell him, but I said the pictures should carry the idea of a suit of armor, which helps you vanish into the Berlin nights and become one with the darkness, with the Berlin Beat beating simultaneously with your heart."
"Berlin Beat", is an all black universe of matte and shiny, heavy and transparent, light and shadow. Strong, protective pieces, like an urban suit of armor. Strong punky materials like patent leather and the stiff and heavy cotton "Deutschleder", a material which is mainly used for work wear standing next to a fragile and sophisticated silk organza. And arty sculptural pieces are worn with statement t-shirts showing Esther's well decorated hand and middle finger or a drum set in an ear-splitting concert situation. Long evening dresses paired up with bomber jackets.
And as in Esther's world, nothing goes without jewelry, she had to find the perfect accessories to go with it: A VIP, AAA, All Areas backstage bracelet and pass made of 925 Sterling Silver, gold-plated or in an all black version. With these assets on your body you can at least dream that you never missed a single concert.
Also part of the collection BERLIN BEAT are a pair of tights and a pair of stay ups for which I teamed up with ITEM m6, all made in Germany. Both styles feature an all-over design with the collection's signature pattern.
A BIG THANK YOU TO MY DEAR FRIEND MODERNA FOR DEDICATING HER AMAZING TRACK "KOTTI", WHICH IS PREMIERING WITH THIS VIDEO // https://bravenewrave.com
ABOUT MODERNA:
'Moderna" aka Missy Livingston moved to Berlin in 2017 where shortly after we met and had an instant kinship. We share similar visions and passions when it comes to style and taste. Moderna dj'ed for the closing party of my last collection 'Hungry For Life' which was an unforgettable night. After discussing the video and the concept of the Berlin Beat collection with her she already had in mind the perfect fitting track which was written about a well known area in the punk and beat neighborhood of Kreuzberg called Kottbusser Tor, hence the name of the track 'KOTTI' . After I heard it I knew it was the perfect match and I couldn't be happier how it also came from inspiration of Berlin, which she wants to reiterate that the song lyrics "Angst Panik Schrecken" are to be taken in jest, meaning even with all the grit Berlin is still beautiful.