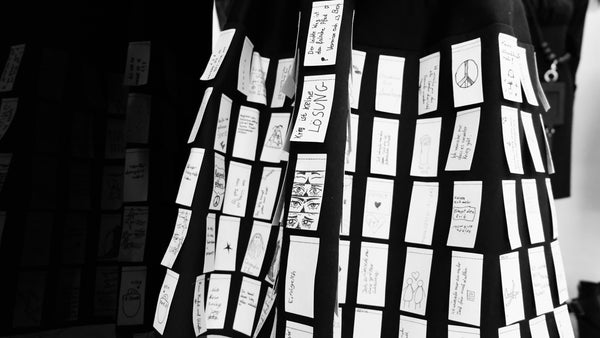 BID NOW FOR THIS
VERY SPECIAL PIECE OF ART
FOR A GOOD CAUSE
At this year's German Film Awards ceremony in Berlin,
the film DER PFAD was awarded the Lola in Gold
for the best children's film 2022.
For the occasion, screenwriter & actress Jytte-Merle Böhrnsen wore a skirt she created together with over 240 children and the support of Berlin-based designer Esther Perbandt.
Over 250 hand-drawn and original messages from children and young people make this skirt a work of art. Messages to the adult world. "It is a huge concern of mine to make children and young people more heard. That's why I had the idea to take the audience of the children's and young people's film with me on the red carpet, so to speak, for this special, festive occasion. The wishes for peace, justice, nature conservation and a secure future, can be read in black and white. They move to tears, because they are honest, direct and uncompromising. The essentials come to the fore." Jytte-Merle Böhrnsen Actress & Screenwriter You can find and bid on the skirt at UnitedCharity. 100% of the proceeds of this artwork will go to the renowned organization "Save the Children".
OR you can support this campaign and the 250 children's messages by donating directly to Save the Children symbolically for a wish. LINK ATTACHED
For 100 years, Save the Children has been advocating for children's rights worldwide and is now the largest independent children's rights organization in the world.
@savethechildren_de
https://www.savethechildren.de/