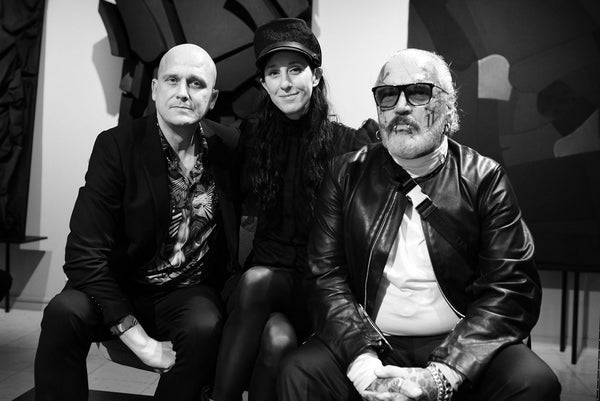 "Geistesblüten" at Walter Benjamin Platz 2 in Berlin, run by passionate book lovers Marc Sven and Christian Dunker, is my absolute favourite bookshop. I love spending time there with them, having wonderful conversations about books and life and getting great book tips.
I was all the more pleased to be able to exhibit my art at Geistesblüten and that Marc and Christian invited me and Sven Marquardt to an entertaining artist talk.
Both are making Berlin history. And are creating legends in their own way. Word of the fashion designer's self-confident designs has spread as far as the USA. Those who wear Perbandt show attitude. Her art sparkles in the mind's eye like a black star. The face of photographer Sven Marquardt looks over Potsdamer Strasse as street art the size of a house wall. Already a gifted photographer in GDR times, Marquardt has been teaching at the renowned Ostkreuzschule since 2015. The refined beauty of his images sings a melody all its own. Berlin Beat is the heartbeat that beats in the chest of these two friends. We can hear the sound at the Artist Talk with Esther Perbandt and Sven Marquardt at the "Geistesblüten" at Walter-Benjamin Platz in Berlin, when the two let us look deep into the black.
You can see the full interview on the Gesitesblüten app, downloadable from Google play or and the App Store.