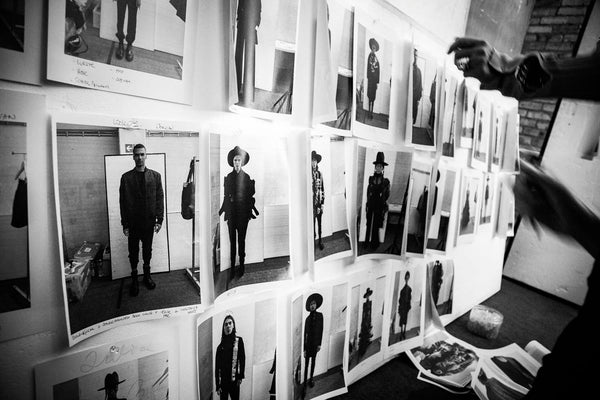 Our Statement T-Shirt is your Rock-n-Roll Look from Berlin
Esther Perbandt - born in Berlin raised in the world
Founder and namesake Esther Perbandt was born and bred in Berlin, toughened up in Moscow and polished in Paris. Her childhood and adolescence during the 70ies/80ies was strongly influenced by open-minded parents, who were strong proponents of egalitarian rights. Attending feminist movements and demonstrations as well as standing up for inclusivity from a young age on forged her character and gave rise to the avant-garde driven ambitions that she followed later in life. Growing up with no television but instead with many other useful tools, like a huge costume box, inspired strongly her imagination to create and explore various personas depending on the outfit combinations that were available to her. At the age of twelve she already received her calling to become a fashion designer and from then on engaged against all risks in reaching her desired goal.
Always challenging traditions and trends
Not only is Esther Perbandt a contemporary fashion designer, but also a visionary, performer, and mistress of ceremonies. Esther Perbandt describes her fashion as an act of (post)-feminism irrespective of gender: personality, autonomy and individuality are at the center of her avant-garde style. The non-binary silhouette is deconstructed and reframed with classical menswear details, however, maintaining timeless aspects of elegance and style. Interdisciplinarity is at the heart of the work of Esther Perbandt, as seen in countless cooperations on film, music, and theatre projects, e.g. with Rammstein and their lead singer Till Lindemann, photographer Sven Marquardt, composer Sven Helbig, movie directors Nicholas Mockridge, Zoran Bihac as well as choreographer Sasha Waltz and conductor Theodor Currentzis. Challenging and overcoming boundaries and fostering connections through creation is the fashion designer's constant ambition and driving force.
Esther pushes fashion and music further
Personalities like Esther Perbandt are not only bottomless in perspective and rich in passions, that have been cultivated along the years with every experience and encountering that occurred, but remained at the same time strongly rooted to their values and ideals that define the robust platform that guides them. One of the long-time companions of Esther Perbandt is her deep love for and especially making music. Not only has she shown her talent during several occasions, but music remains one of her favourite refuge where she charges her batteries, reflects and reconnects with life at large. Music and fashion have always been deeply connected in movement, style and storytelling says Esther Perbandt. And just as a story needs new content to carry on, Esther Perbandt seeks inspiration from the old, the new and the most likely yet to come in order to continue to grow her tree of life. The music of Esther Perbandt, even though a side project, will continue to enrich her fans and supporters experience and is worthwhile following up.
Esther Perbandt the fashion explorer
In fashion Esther Perbandt will continue to explore various paths, possibilities provided by the digital age, creating haute couture looks as well as digging into costume design. It's said that the future is unknown but at least with Esther Perbandt it will always continue to surprise and excite. For that she also collaborated about innovations with a group of EU designers in 2019 initiated by the European Commission.