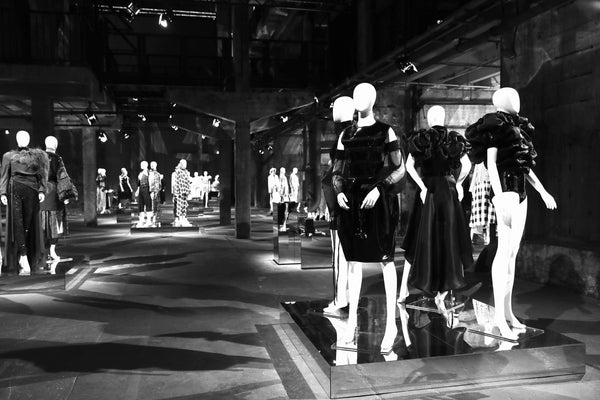 BERLIN BEAT
The Berlin Beat is the heart beat banging inside my chest since I took the first deep breath
in early spring of 1975. Thrilling, powerful, free-minded, adventurous, extraordinary, dirty
and new, it made me want even more. Being a big city brat myself, Berlin's subculture,
music and club scene has always been an endless source of inspiration to me.
Turn on the volume, close your eyes and let me paint rainbows in black for you…
These four looks are the most elaborate and extravagant pieces from the new collection "Berlin Beat", an all black universe of matte and shiny, heavy and transparent, light and shadow.
A collection dedicated to the Berlin lifestyle. It's so often said that my personality and my brand embody the Berlin spirit and energy, the sense of freedom, the music scene and club culture, everything that we have been missing so badly the last 12 months.
These four looks are what I love to call the "cherry on the cake". They are the core of the collection. Strong, protective Haute Couture pieces, like an urban suit of armor. You can vanish into the Berlin nights and become one with the darkness. Slipping into these protective shells, you can feel the Berlin Beat beating simultaneously with your heart. They are surrounded by a fun, ready to wear collection, easy to wear in spring and summer time, but effortlessly ready to style and combine for any other season.
Be prepared for something thrilling, powerful, free-minded, adventurous, extraordinary, dirty and new…
… on March 18th 2021 (Berlin Beat collection online launch)