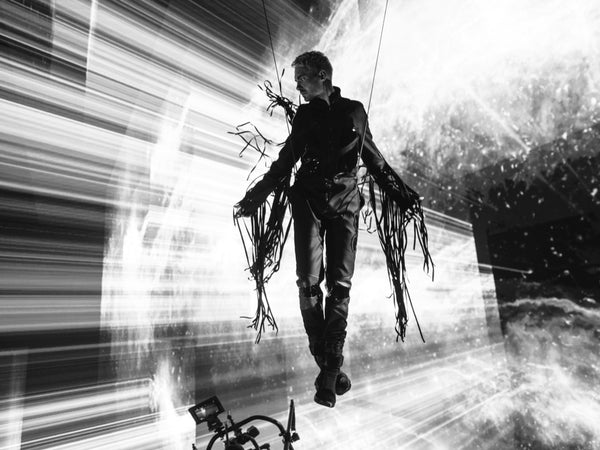 How Esther Perbandt and Bill Kaulitz found each other
Just two days before this crazy year 2020 ended, Esther received a message from Bill Kaulitz of Tokio Hotel on Instagram, asking if she would like to collaborate and design an outfit for him for a new music video. Tokio Hotel was about to launch their new song ',White Lies" which they created together with the Berlin based electronic music project VIZE.
Bill Kaulitz had heard so much about Esther from Heidi Klum and was dreaming about something all black, Esther's specialty.
Using new digital tools to create the perfect Bill Kaultitz look
Time was running, as the video was scheduled to be shot only 2 weeks later. With no time to get bored over New Years eve, Esther started designing right away. Bill Kaulitz was inspired by something larger than life, a super hero, strong and protective. In order to get everything organized in time, Esther had to disturb her freelance team of pattern maker and seamstress over their holidays. With new technologies giving the ability to digitally take measurements, Esther and her pattern maker were able to create an avatar of Bill Kaulitz as he was still in Los Angeles at the time. All fittings and changes on the design were made digitally. This made it possible to have a perfect fitting outfit for Bill Kaulitz on the day of the shooting. Esther was invited to join the team at the shooting day in Berlin in January 2021.
After a successful shooting day Bill Kaulitz added:
"We wanted to make a video that was visually new and exciting. Baris Aladag (film maker) came up with the idea to make us fly and I was immediately hooked. We had the best stunt, light and visual effects team and created a very unique world for White Lies. For the perfect look, I asked Esther Perbandt to design my outfit and it turned into an action super hero moment that I love! We still have bruises from the harnesses and stunts, but it was worth it."
Credits:
Photos by: Christoph Köstlin / Dennis Dirksen