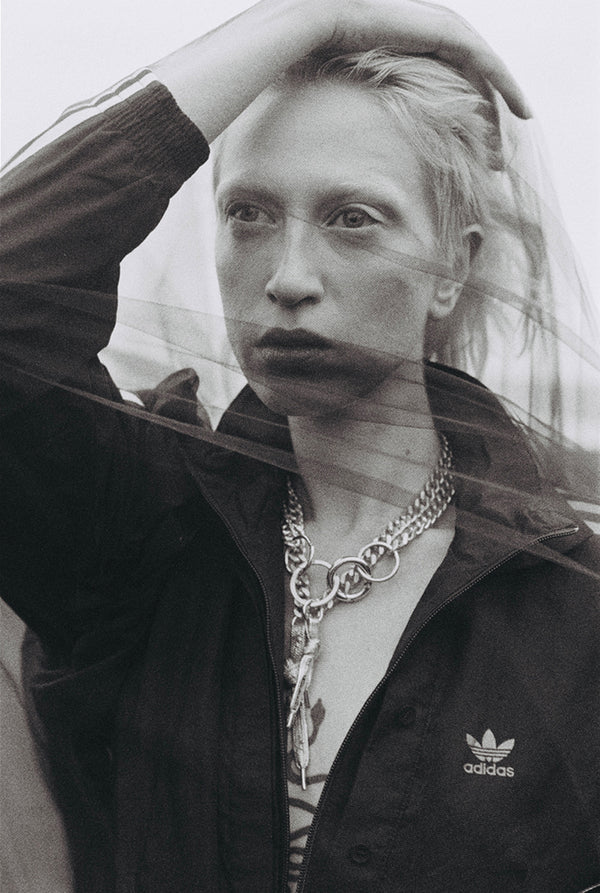 "Jewelry is my second skin"
With this particular passion for jewelry, Berlin-based fashion and jewelry designer Esther Perbandt has created six statement pieces consisting of necklaces, earrings, key chains and bangles exclusively for Adidas. The limited edition jewelry collection is accompanied by an image campaign, which was realized in collaboration with Berlin-based photographer Sven Marquardt in Iceland.
Photography by Sven Marquardt.
SEE MORE
The adidas x esther perbandt x sven marquardt jewelry
The adidas x Perbandt x Marquardt jewelry collection will be exclusively
available at the adidas Originals flagship store in Berlin Mitte.
(Münzstrasse 13-15)
Adidas' Debut Jewellery Line with Perbandt x Marquardt
SLEEK talks to Esther Perbandt and Sven Marquardt about their connection to jewellery and the design process behind the Adidas Berlin Exclusive collaboration.
READ THE INTERVIEW
---
CREDITS: DOP: Sven Marquardt // @svenmarquardt
Fashion: adidas x Esther Perbandt // @estherperbandt)
Jewelry: Esther Perbandt exclusive for adidas // @adidas_de
HM + & Styling On Set: Saskia Krause // @saskiakrause
Production & 2nd Camera: Hardy Paetke // @streetmoments.nyc
Drone: Christoph Dahlberg // @christophdahlberg
Talent: Lex Olsen // @leksi
Video concept & editing: Jonas Meyer // @jonasmyp & Tavy Hornbrook // @tavy_h
Music: Emika // @emika_is_a_sound
Project management: Laura Haselmann // @sektaufice