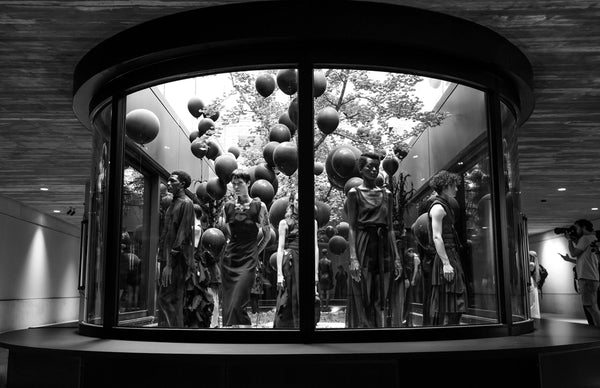 "CONCRETE JUNGLE"
Esther Perbandt X Acht Berlin
During Berlin Fashion Week, Esther Perbandt collaborated with Acht Berlin to present her latest collection, "Concrete Jungle." The event took place at the Acht Berlin building, located at Schönhauser Allee 8. This innovative space serves as a hub for creatives, embodying Berlin's entrepreneurial spirit. The building itself is a five-story structure that seamlessly blends modern architectural design with the city's rich cultural heritage.
The collection's theme, "Concrete Jungle," juxtaposes elements of nature, embodied by birds, with the raw and inspiring aesthetic of Brutalist architecture. Bird motifs appear throughout the collection, woven into jacquard fabric, incorporated into tops and dresses, or skillfully cut from heavy cotton fabric to create floor-length dresses that evoke a sense of imminent flight. During the presentation, the 18 looks were showcased by models standing within an atrium, resembling an aquarium. To enhance the ambiance, large headpieces made of hair, reminiscent of trees, were adorned with black helium balloons that floated upwards from the atrium, reaching towards the courtyard. The musical accompaniment featured Susanne Szambelan, a cellist seated between two gingko trees.
Upon entering Acht Berlin-Haus at Schönhauser Allee 8, visitors are greeted by a captivating world of concrete and black, providing the perfect backdrop for the esther perbandt brand. The restoration of this historic building holds great significance for Esther Perbandt, as it symbolically closes a personal and biographical chapter in her life.
" I have a very special relationship with the building at Schönhauser Alle 8, now Acht Berlin. From 2009 on, I spent a lot of time there. I had shortly before met the artist Jaybo Monk, who from then on became my mentor in art. In second courtyard, in a big room, there was the "Project Room", founded for exhibitions, parties and events by the fashion and lifestyle magazine "Style and the Family Tunes", which jaybo ran with a wife Cathy Boom. In this room he also had his studio at times. Many days, sometimes even the nights I worked there on my collections, while Jaybo painted his pictures. So it happened that I also organized my first self-organized fashion show in this room in January 2010".
Esther Perbandt passionately communicates her black universe through various forms of media, making a powerful statement against "fast fashion". Throughout her extensive career, she consistently explores the concept of infinity as a central creative element. The diverse shades of black represent sublimity, encompassing all colors and symbolizing the universe, infinity, and the inherent differences within apparent sameness. Black also carries symbolic weight as the origin of all things, representing both the beginning and coexistence with light.
Thank you to our great partner: Acht Berlin / Paper & Tea / Cookies BAR Crew / Babor / Weberei / Taittinger / XRBB / BRLO
Credits/Photography by:
Isa Foltin for Getty Images
Ferry Mohr