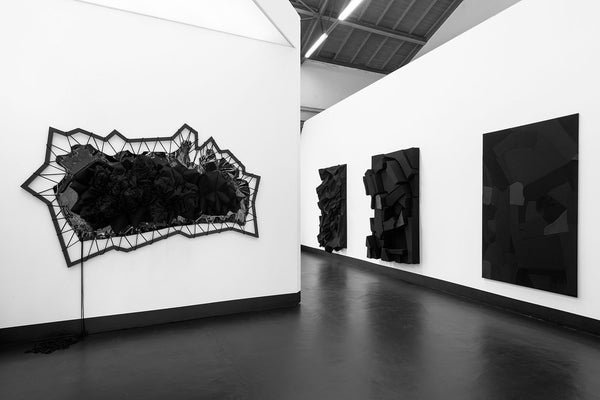 ASTRO NOIR
A journey through the textile landscapes of Esther's black universe
Esther Perbandt, born in 1975 in West Berlin, is a multimedia artist and fashion designer who studied in Berlin and Paris. She and her label 'esther perbandt' embody what Berlin stood for and still stands for: an aura of authenticity, individual coolness and inclusion.
Esther Perbandt describes her fashion herself as an act of gender non-specific post-feminism: personality, autonomy and individuality make up the avant-garde style. In her artistic work, Perbandt also breaks down traditional boundaries and combines her two passions in an impressively unconventional way.
For the exhibition at Galerie Jochen Hempel, Esther Perbandt will completely take over the gallery and transform it into an 'ASTRO NOIR Esther Perbandt Universe'. In addition to large-scale installations, textile paintings and sculptural objects will be on display. Especially for the occasion of the exhibition alva noto created an ambient soundtrack.
Again and again in her long career, infinity, embodied by the tone black with its multidimensional meanings, has been a central creative element. The various shades of black stand for sublimity, for the sum of all colors, as well as for the universe, infinity, difference in supposed sameness, but also symbolically for the origins in everything.
In black lies the beginning. Black tones let the light speak. Black and light have an existential coexistence.
Unterstützt durch / supported by Stiftung Kunstfond, Neustart Kultur