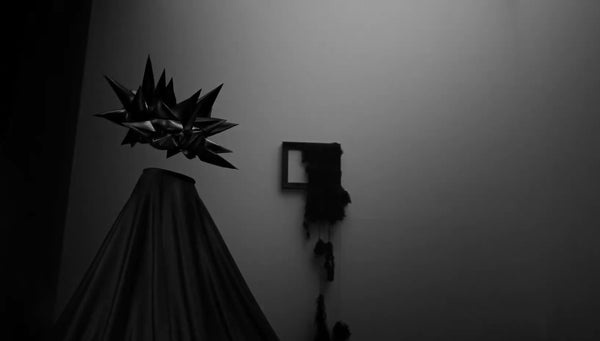 ESTHER PERBANDT X KUNSTBIBLIOTHEK
"ASTRO NOIR LAB" - 17. Januar 2023
As part of Berlin Fashion Week, Berlin-based designer Esther Perbandt is showing an immersive mixed reality presentation in cooperation with the Kunstbibliothek. Against the backdrop of the question of how she will work 100% sustainably in 10 years, she presents her elaborately made clothes with integrated chips, via which the value chains and origins of the materials are digitally visualized. All 16 "Astro Noir" looks shown are part of Esther Perbandt's couture line and only available to order. However, there will be a matching "Easy Access" collection, which will then also be available in the company's own online store and in the Berlin boutique.
Many of the looks are implementations of digital fashion designs that Esther Perbandt first showed in July 2021 during her digital fashion show "Astro Noir" in a livestream. She is thus one of the German pioneers in terms of digital 3D collections. At the Berlin art fair Positions in September 2021, visitors were again able to project designs from this collection onto their own bodies via AR (augmented reality). In the Astro Noir Lab, these virtual designs now become real and their respective clothing stories can be explored digitally.
Through a wide variety of media, Esther Perbandt tells of her black universe and, by exaggerating it, makes an unmistakable statement against 'fast fashion' and for sustainability. In doing so, she refines her signature as a universal artist who continues to set new standards not only in the fashion world, but also beyond it. Again and again in her long career, infinity has been Esther's central creative element. The various shades of black stand for sublimity, for the sum of all colors, as well as for the universe, infinity, the difference in supposed sameness but also symbolically for the origins in everything. In black lies the beginning. Black and light have an existential coexistence.
Esther Perbandt also transforms the Art Library at the Kulturforum with supposed ease into a dream of infinity. A 400 square meter black room in which dotted spotlights and hologram-like screens shine like satellites in the universe. Futuristic-looking, disembodied avatars move on eight transparent screens, presenting the 16-look digital collection "Astro Noir." There are moments when on all 8 screens the "invisible" avatars walk the same look synchronously in the typical catwalk, further emphasizing the feeling of infinity in space.
The digital looks are joined by the same outfits physically on tall bodies that also seem to come from outer space. These drape themselves around a small platform like a tableau vivant, setting the stage for the main act of the evening: A 15-minute live act by Canadian mezzo-soprano Emily D'Angelo. She is "one of the best young singers in the world" (NY Times) and has continued her meteoric rise, firmly establishing herself as one of the most exciting and critically acclaimed artists of her generation. D'Angelo made her stage debut at just 21 years old in 2016, where she was immediately awarded the Monini Prize.
But what is Esther Perbandt all about in this presentation?
The fashion industry is facing a major challenge: The lack of transparency throughout its value chain. The production of clothing is done through unethical practices and the loss of biodiversity. And yet, Esther Perbandt does not want to give up the passion for elegant and avant-garde fashion that she has had since childhood, and still wants to live and refine her creativity and fascination for digital innovations as well for the next 30 years. The appropriate answer lies in technology and sustainability. Digital fashion is on everyone's lips, even if what we can currently see is probably only the beginning.

At Esther Perbandt's "Astro Noir Lab" presentation, German RegTech "Fashion for Biodiversity Solutions" launches FFBS-ID, which visualizes the journey of fashion items from farm to fashion and assesses their impact on the environment and biodiversity in real time. FFBS-ID is blockchain-based giving the end consumer the ability to verify the people behind the fashion throughout the supply chain Who made my dress? Who made my textile? Or who is my farmer? All this can be answered from now on. FFBS-ID provides a biodiversity assessment of each fashion item, which can help brands understand their commitment or roadmap to the Sustainable Development Goals (SDGs) and their readiness for the EU Circular Economy Action Plan. Real-time data for CO2 and other greenhouse gases can help measure their ESG scores, which will be important in the near future.
Partner:
Christiane Arp / Former Editor in Chief Vogue Germany, Board of Directors Fashion Council Germany.
For the second time Christiane Arp does the styling for Esther Perbandts show in close collaboration with Josepha Rodriguez.

Loni Baur Make-up Artist
Loni Baur is one of the most successful make-up artists in Germany. For 25 years, she has been known in the beauty scene for her artistic standards and creativity. For the first time, she is also an active sponsor with her brand LONI BAUR, which she founded in 2022 with her co-founder and friend, Dr. Nike Lohmann.
https://www.lonibaur.com // #lonibaur #lonibaureditions @baurloni @lonibaureditions

Yoona.ai:
Esther Perbandt developed her first digital fashion designs with Berlin-based artificial intelligence start-up Yoona.ai. https://www.yoona.ai // @yoona.ai_design #yoona.ai

VRBB:
VRBB strengthens the Berlin-Brandenburg region on a social and economic level. With its inclusive networking activities, the association supports the increasing structural importance of XR technologies for the region. In doing so, VRBB's work reflects a comprehensive understanding of the dynamic, complex and cultural importance of Berlin-Brandenburg as a national and international hotspot for immersive technologies.
https://virtualrealitybb.org // @virtualrealitybb

Trippen:
For over two years now, Esther Perbandt has been collaborating with Berlin-based shoe brand Trippen for their significant footwear.

ALVA NOTO:
Carsten Nicolai of Alva Noto composed two atmospheric tracks especially for the presentation of the digital fashion designs.

Many thanks for the inspiring collaboration and support to Deutsche Grammophon