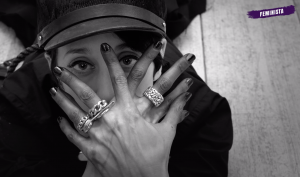 "Fashion icon Esther Perbandt is a Gesamtkunstwerk on a Zeitgeist mission; her purpose: to move people deeply."
Her fashion never follows trends or market rules and she is one of very few designers that still masters the art of storytelling, not for marketing reasons, but to empower her customers to carve out the individual beauty of every person. Her inspiration stems from a myriad of collaborations in the art, literature and theater world, and last but not least music. Next, to a long-standing collaboration with musician Sven Helbig, Esther also touches people with her voice. "As a child, she said, I always wanted to be a rockstar" – and so she did, taking up vocal lessons at the age of 40, she enchanted just recently with her first concert...watch her full story below or read more here....
https://blog.feminista.world/2019/…/24/meet-esther-perbandt/
Special thanks and lots of love to our friends from Embassy Of Dreams for producing this fabulous video, Nicholas Mockridge for lending his voice, Sven Helbig - Berlin for the music, Birgit Kaulfuß for some additional stills and Thea Winning for some more video material.