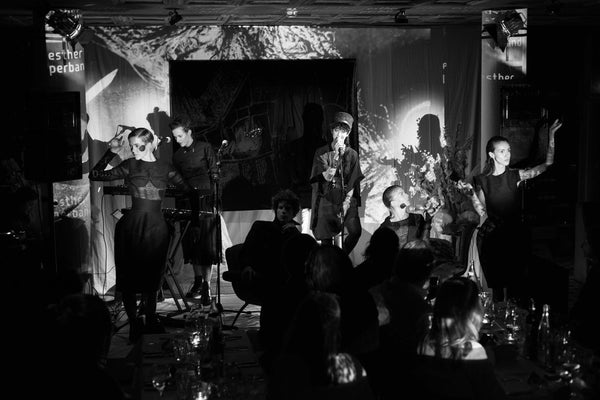 In November 2018 the interdisciplinary artist and fashion designer Esther Perbandt was invited by the artist collective Like A Wild Beast's Fur (LAWBF) to expose her unique avant-garde world during the course of an evening. Her mission: To create an experience of her own in the renowned restaurant "Borchardt" in Berlin as part of the collective's showcase series.
Esther Perbandt had the entire room transformed into her universe. The decorations and flowers, amongst others, were kept in her favorite monochrome colors, black and white, transporting the right mood and underlining the message of her undertaking that thrived so proudly and successfully over the years. Together with the Chef de Cuisine she came up with an extraordinary menu for a seated dinner that hosted 60 carefully selected guests from Berlin's art, music and fashion scene. The three courses were entirely black, as were the drinks.
Animated collages were created by a video artist and transformed the location into a bi-chromatic planet.

A heartfelt and memorable introduction of Esther Perbandt, her biography and oeuvre as a fashion designer, was held by Nicholas Mockridge (founder of LAWBF and friend to Esther). Subsequently, to that the multi-talented designer performed live. Accompanied by musician Friederike Bernhardt, Esther Perbandt sang four renditions of pop and avant-garde songs.
The evening's highlight was the appearance of four models, wearing the designer's current collection. Their performance consisted of subtle and slow movements - in the style of the classicist tableau vivant - that brought to life the renaissance paintings and Vogue Covers of the 1950's.